Photos
June 2013 - There are two 1959 Cadillacs for sale by the same owner in Western Colorado. One is a black Fleetwood, the other is a white DeVille. Both are hardtops. No information on what's under hood or whether they might run. The owner does not have the title for either of them. Asking price is $2500 for each. I'll update this page with contact information ... once it's confirmed that my friends won't be making an offer on them.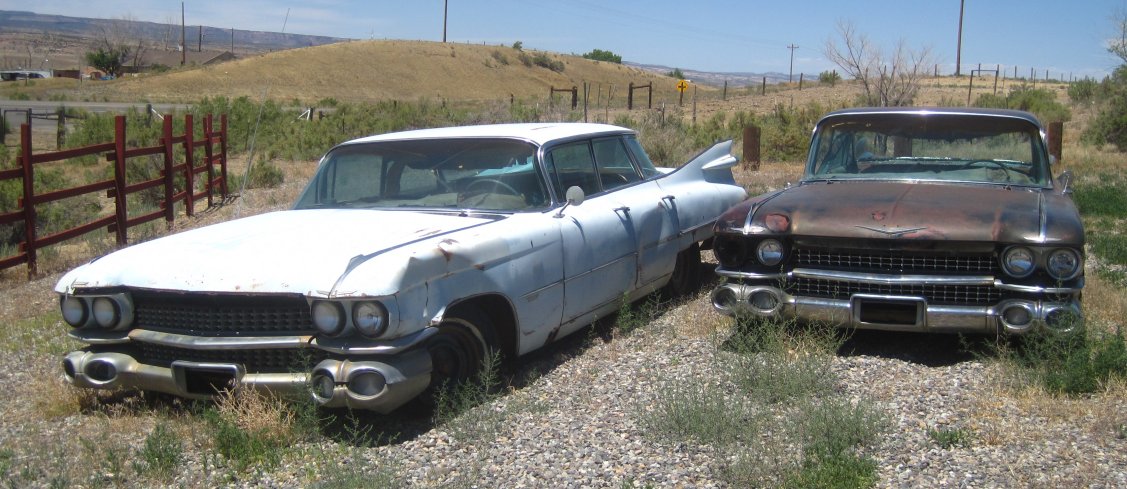 A white DeVille and black Fleetwood. I owned a 1964 Cadillac awhile back, a wonderful car, but they do not compare to the majesty of a 1959 Cadillac!

The driver sides. I didn't see any rust on these cars. They've lived there entire lives in the dry western USA.

The Fleetwood has its back window broken out. The DeVille has the fashionable wrap-around window in the back.

This Cadillac model has to be in the conversation for the most beautiful rear design of a car. :)

A closer-up look at the rear of the 1959 Fleetwood.